Amalie Beauty Inc. and its materials are not intended to treat, diagnose, cure, or prevent any disease. 
All material on Amalie is provided for educational purposes only. Always seek the advice of your physician or other qualified health care provider with any questions you have regarding a medical condition, and before undertaking any diet, exercise, or other health program.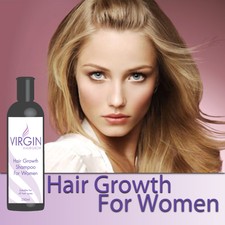 If you're experiencing hair loss, topical treatments like minoxidil (Rogaine) and others tend to only be partially effective, if they are effective at all; they don't address the root causes of hair loss; they target androgenic alopecia (which only accounts for some cases of hair loss); and they come with a host of unpleasant side effects—side effects that can worsen the aesthetic problem you were hoping to fix. Rogaine can cause hair to grow in different colors and textures than the surrounding hair and can cause unwanted hair to grow on your cheeks and forehead.
Taking estrogen supplements as part of a hormone replacement therapy regime has its effects on your hair as well. Women can treat a type of hair loss called androgenic alopecia, associated with low estrogen and progesterone, by replacing these hormones artificially. Dosages of synthetic estrogen should be monitored regularly -- abnormal hair growth is a possible side effect of one kind of hormone replacement therapy, called esterified estrogens.
Optimal levels of estrogen help to grow full thick hair, while low estrogen levels lead to thin and stalled hair growth, which eventually leads to hair loss. Through the years, a women will go through various cycles of highs and lows in estrogen levels. Puberty is typically associated with high estrogen levels as a woman starts to cycle through menstruation. Pregnancy typically increases hormone production, but once the baby has been delivered the mother can experience a drop in estrogen levels, which can result in thinning and loss of hair. Typically, this corrects itself as the woman's body heals and hormonal regulation returns to normal.  The largest decline in estrogen levels is during menopause. Estrogen is secreted through the ovaries and adrenal glands. When a woman hits menopause, the ovaries' estrogen production is significantly diminished, which puts an excess burden on the adrenals to produce it. However, as the adrenals are typically overburdened due to stress, symptoms of menopauses like hair loss and hot flashes occur prematurely and excessively for some. Nourishing the body and balancing stress levels will support gentle and graceful transitions.  
Scurf refers to the scales and greasy crusts that accumulate along the hair shaft and indicates the presence of seborrhea.[26,27] Collarettes are composed of hard fibrinous scales[25,28] surrounding each individual eyelash. They travel upward along with the growth of the lashes and are indicative of staphylococcal infection. Sleeves or cylindrical dandruff comprise scales that form a cuff around the lash root and are connected with it, in contrast to greasy scales which are not connected to the lash root.[29] Sleeves indicate infestation with Demodex folliculorum.
According to the new study, British scientists say they found over 200 genetic markers linked to hair loss. More specifically, the study focuses on male pattern baldness. This type of baldness, also known as male alopecia, is the most common form of hair loss in men. Researchers believe this affects as many as 30 to 50% of men by the time they reach the age of 50.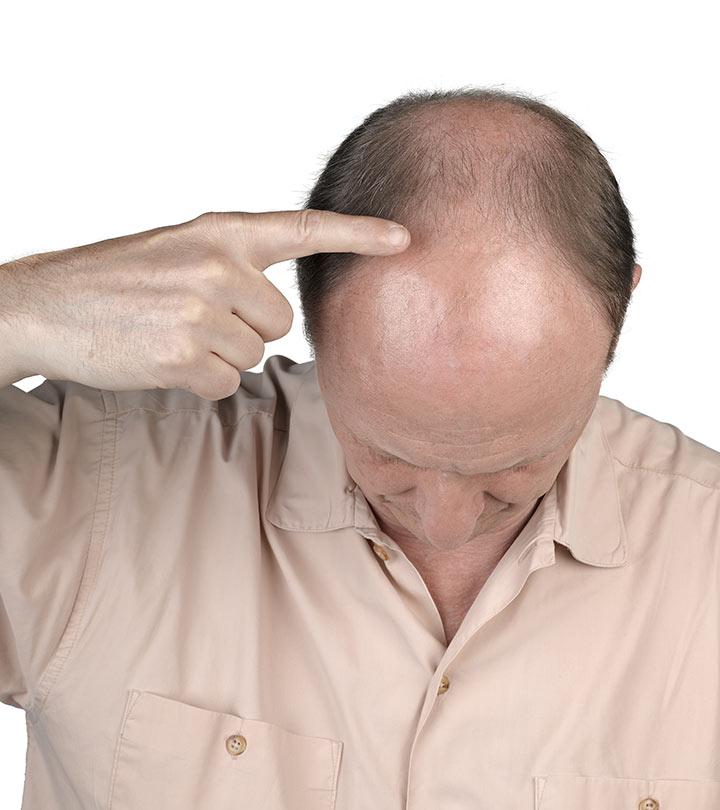 Hair Club's Privacy Policy and Terms of Use set forth the conditions under which you may access and use our website. Your access and use of the website, lets Hair Club know that you consent to be bound by Hair Club's Privacy Policy, Terms of Use, and applicable federal, and state or provincial law, as applicable, in effect at the time of your use. The terms in the Privacy Policy and the Terms of Use are non-negotiable. If you do not agree to be bound by any of the terms contained in our Privacy Policy or in our Terms of Use, or you are not legally able to contract in your place of residence by reason of your age (you are younger than 18 years of age) or other, then you should not access or use the Hair Club website for any purpose.
Most of us look at the eyebrows as a patch of hair that has an aesthetic purpose and it is often shaped for cosmetic purposes. Although the exact purpose of the eyebrows is not conclusively understood, it is believed to be prevent water or sweat from falling on to the eyes itself. For most people its function is of little concern compared to its cosmetic purpose. As with hair anywhere on the body, eyebrow hair and the follicles from where it arises can be prone to the same diseases and disorders which may lead to hair loss..
Hypothyroidism, or an underactive thyroid gland, adversely affects scalp and body hair growth. Thinning of the eyebrows can be a late sign of hypothyroidism. Other symptoms of hypothyroidism include chronic fatigue, weakness, constipation, weight gain and skin dryness. Treatment of hypothyroidism with thyroid hormone replacement medication typically leads to regrowth of lost eyebrow hair.
That's why I've designed a system I call The Gottfried Protocol, a step-by-step, integrative approach to natural hormone healing that emphasizes lifestyle design first and foremost. It's based on decades of research, my education at Harvard Medical School, my own experiences with hormonal imbalances, my belief in peer-reviewed, well-performed randomized trials to support my recommendations, and what I've learned from patients over the past 20-plus years of practicing medicine. The Gottfried Protocol engages only the top hierarchy of scientific evidence and has been proven in scores of women in my practice.
Insulin regulation is also a big factor in hair health, as an imbalance can lead to various hormonal effects. Insulin helps to regulate blood sugar levels, which effects fat storage and hormone balance. Fat storage and hormone balance play a role in hair growth because fat storages will secrete excess estrogen in the body, and can desensitize hormone signals.  
For now, therapies include cortisone injections directly into the bald patches; topical cortisone; Minoxidil — known to many people under the brand name Rogaine; and anthralin cream. A less-widely available option is topical immunotherapy: certain chemicals applied to the scalp can trigger an allergic rash, which alters the immune response, NAAF notes.
According to the new study, British scientists say they found over 200 genetic markers linked to hair loss. More specifically, the study focuses on male pattern baldness. This type of baldness, also known as male alopecia, is the most common form of hair loss in men. Researchers believe this affects as many as 30 to 50% of men by the time they reach the age of 50.
If, however, you aren't so sure that any of the causes listed above are a problem for you, then a good place to start may be to talk with your healthcare provider about testing. It is important to learn the root cause – especially if dealing with infertility – because that which is causing hair thinning and shedding may also be contributing to your inability to conceive.
Hair loss in women is not easy to diagnose because it is very often multifactorial in etiology and thus requires well-designed specific steps so that the patient is evaluated properly. The best way to do this is to evaluate the patient in person (rather than sending photos via email or Skype) because the patient gets a chance to meet her doctor to permit the development of a trusting relationship- critical because very often the treatment of hair loss is an involved process that requires a strong doctor-patient relationship.
When you see more hair in the shower drain, in your hair brush or your ponytail holder goes around an extra time all of a sudden this is typically low thyroid, high stress or low estrogen. It can also be the increased inflammation or oxidative stress or as a result of nutrient deficiencies especially anemias (low iron, B12, etc.). Let's dig into each of these.
These important micronutrients, which are all essential for hair health, are part of my Balance Supplements. And even if you eat a healthy, phytonutrient rich diet, you might not have optimal levels of the vitamins and minerals you need to promote hair health. Environmental factors beyond our control, from the mineral-depleted soil in which most of our food is now grown to shifts in growing practices that have reduced the amount of vitamins and minerals in various foods, can leave us eating a picture-perfect diet and still deficient in certain micronutrients.
Madarosis is a terminology that refers to loss of eyebrows or eyelashes. This clinical sign occurs in various diseases ranging from local dermatological disorders to complex systemic diseases. Madarosis can be scarring or non-scarring depending upon the etiology. Appropriate diagnosis is essential for management. Follicular unit transplantation has been found to be a useful method of treating scarring madarosis and the procedure relevant to eyebrow and eyelash reconstruction has been discussed. A useful clinical approach to madarosis has also been included for bedside diagnosis. The literature search was conducted with Pubmed, Medline, and Google scholar using the keywords madarosis, eyebrow loss, and eyelash loss for articles from 1960 to September 2011. Relevant material was also searched in textbooks and used wherever appropriate.
It's natural for estrogen levels to fluctuate throughout a woman's life, but drastic drops can disrupt the hair growth cycle and cause telogen effluvium. For example, during pregnancy, a woman's estrogen levels are at their peak. Fewer hair follicles enter the telogen stage of the hair cycle, so hair looks thicker than usual. A few months after pregnancy, however, estrogen levels drop and the excess hair falls out. While totally normal, this type of telogen effluvium can be very upsetting for new mothers.
Information is for educational purposes only. Please speak with your medical provider if you have questions or concerns. Read more. See our privacy policy here. We are a participant in the Amazon Services LLC Associates Program, an affiliate advertising program designed to provide a means for us to earn fees by linking to Amazon.com and affiliated sites.
Inflammation can play into thyroid related hair loss as can increased oxidative stress when the cause of the low thyroid is Hashimoto's or autoimmunity. Immune activation in Hashimoto's increases both of these additional causes of hair loss. As well it's not uncommon to have multiple nutrient deficiencies when you have a low thyroid ranging from iron to B12 to a host of minerals including zinc and selenium. 
Inflammation can play into thyroid related hair loss as can increased oxidative stress when the cause of the low thyroid is Hashimoto's or autoimmunity. Immune activation in Hashimoto's increases both of these additional causes of hair loss. As well it's not uncommon to have multiple nutrient deficiencies when you have a low thyroid ranging from iron to B12 to a host of minerals including zinc and selenium. 
Telogen effluvium, a type of scalp hair loss characterized by hair shedding, may affect the eyebrows as well. It can be caused by any emotional or physiological stress, for example acute or chronic illnesses, hormonal changes, nutritional deficiencies, and medications that alter the normal hair cycle and cause the hair the enter the telogen phase prematurely.
Another reason why hair falls out is lupus. Lupus is an autoimmune disease that may make your immunity system begin attacking your various healthy body tissues. According to Medical News Today, "this results in symptoms such as inflammation, swelling, and damage to joints, skin, kidneys, blood, the heart, and lungs". It can also attack eyebrow follicle resulting sudden hair loss and including brows.
Thank goodness! I am a teacher which requires me to get up about 5:30 during the school year. This summer, I will turn 62 and although I've always had problems waking up early in the morning – he it is so severe that I am sleeping 12 to 14 hours a day! This is terrifying as school starts in less than two weeks. I am postmenopausal for close to 20 years now and recently found out that my estrogen level is elevated. Your article is a godsend; I will now be able to have an intelligent discussion with my gynecologist and hopefully become a morning person for the first time in my adult life!
Around 30 million U.S. women will experience hereditary hair loss, or female pattern baldness (androgenetic alopecia), while others will struggle with situational hair loss, brought on by medical conditions, medications, poor health and nutrition, environmental factors such as smoking and sun damage, or even from adverse reactions to hair care products or treatments.
Hi! I'm Kat and I write these posts. I'm obsessed with eyebrows, hair and anything related to fitness. Right now I do microblading, 3d brows and semi-permanent eyebrows in Mesa, Arizona as a certified microblading artist. I'm a licensed cosmetologist and have been for over 10 years as well. I love experimenting with new products and love to share my experiences. Have questions? Leave them below!
"When I went in for my Bosley consultation, my senior counselor was the one who walked me through the procedure. He also had had the procedure done, and his results were phenomenal. And I was thinking, 'Wow, if I can get that, that's what I'm looking for.' He really got it — he understood me. He understood what I went through, and that was really important to me.
Everyone's hair loss is different. Which is why, at Hair Club, we don't provide a one-size-fits-all solution to restore your hair. Instead, we consult one-on-one with you to understand what's needed to fit your taste and lifestyle. Only then will we custom tailor a solution that works best for you, so you can get the results you want. It's what we've done for 600,000+ satisfied clients. It's what we'll proudly do for you.
The process takes about two hours to complete, but you'll need to go in for a touch up about once a year after the initial appointment (and possibly a second follow-up). Microblading costs between $500 and $1,000, and the results should last for one to three years. Your natural brow hair will continue to grow, but you likely won't need to get waxed as often. "Most people find their regular maintenance decreased because they have the shape they want after microblading," Studabaker says.
FPHL or androgenetic alopecia is the most common cause of hair loss in women and one of the most common chronic problems seen by dermatologists worldwide (Varothai and Bergfeld, 2014). FPHL is a nonscarring form of alopecia in which the frontal hairline is maintained, but there is progressive hair thinning at the vertex of the scalp. Thinning of the hair is secondary to alteration of the hair cycle with shortening of the anagen phase and simultaneous lengthening of telogen. This increase in the resting phase and decrease in the growth phase of the hair cycle results in the miniaturization of hair because long terminal hairs are gradually replaced by short vellus hairs (Messenger and Sinclair, 2006, Sinclair et al., 2011).
Contrary to popular belief, hair does not grow continuously but actually grows in cycles. It starts at the follicles which are embedded in the skin and the visible part, the shaft, is a consequence of active growth at the follicles over time. The living part of the hair in the skin has blood and nerve supply while the hair shaft is made up of dead cells and protein and does not have a blood or nerve supply. Therefore it can be easily cut without any bleeding or pain.
Information is for educational purposes only. Please speak with your medical provider if you have questions or concerns. Read more. See our privacy policy here. We are a participant in the Amazon Services LLC Associates Program, an affiliate advertising program designed to provide a means for us to earn fees by linking to Amazon.com and affiliated sites.
Blow dryers, flat irons, and other devices: Frequent use of a blow dryer tends to damage hair. The high heat from a blow dryer can boil the water in the hair shaft leaving the hair brittle and prone to breakage. Dermatologists recommend that you allow your hair to air dry. Then style your hair when it is dry. Dermatologists also recommend limiting the use of flat irons (these straighten hair by using high heat) and curling irons. 

Madarosis is a clinical sign that has become pathognomonic of leprosy in countries like India. However, this apparently benign clinical sign has wider ramifications in many systemic and dermatological disorders. Hence, establishing a proper diagnosis and appropriate management is mandatory. Though management of the primary disease results in regrowth of eyebrows and eyelashes, many require surgical management. Thus, the management of a patient with madarosis requires a coordinated effort from the dermatologist, ophthalmologist, internist, and reconstructive surgeon.
Skin infections can cause hair loss at the affected area. One of the more common causes is a fungal infection of the skin, also sometimes referred to as a ringworm. Eyebrow fungus is more likely to be related to a scalp fungus (tinea capitis) and both areas are often affected at the same time. A bacterial infection is another possible cause. Folliculitis for example is a condition where the hair follicle becomes infected usually with bacteria like Staphylococcus aureus. Eventually this can lead to loss of the hair in the infected follicle.
The most common type of hair loss seen in women is androgenetic alopecia, also known as female pattern alopecia or baldness. This is seen as hair thinning predominantly over the top and sides of the head. It affects approximately one-third of all susceptible women, but is most commonly seen after menopause, although it may begin as early as puberty. Normal hair fall is approximately 100-125 hairs per day. Fortunately, these hairs are replaced. True hair loss occurs when lost hairs are not regrown or when the daily hair shed exceeds 125 hairs. Genetically, hair loss can come from either parents side of the family.
Physicians such as dermatologists and plastic surgeons have long recommended essential vitamins and supplements for hair growth to women and men. Now read why top medical experts including Dr. Craig Ziering and Dr. Steven Dayan have been telling their patients for years about Viviscal hair growth supplements to help grow thicker, longer and healthier looking hair.
Scalp hair loss may be a common complaint among men and women, but in my practice, loss of eyebrow hair is a major concern among my female patients. Because eyebrows frame the face, hair loss in this area can dramatically change one's appearance, and since eyebrow hair loss is not easily concealed, it can be, for some women, an even more devastating loss than scalp hair loss.
In an article on menopause, the University of Maryland Medical Center states, "Estrogen loss can contribute to slackness and dryness in the skin and wrinkles. Many women experience thinning of their hair and some have temporary hair loss." Meanwhile, this study reports, "It has long been known that estrogens also profoundly alter hair follicle growth … the time has come to pay estrogen-mediated signaling the full attention it deserves in future endocrinological therapy of common hair growth disorders."
When men have hereditary hair loss, they often get a receding hairline. Many men see bald patches, especially on the top of the head. Women, on the other hand, tend to keep their hairline. They see noticeably thinning hair. The first sign of hair loss for many women is a widening part. In rare cases, men see noticeably thinning hair. And in rare cases, women can see a receding hairline or bald patches. The reasons for this are unknown.
A. Steroids are not for female pattern hair loss but are sometimes used for alopecia areata (spotty hair loss that is different than hair loss due to genetics and aging). Laser combs? There are some reports that low-level light therapy could stimulate hair growth in some people. It's something to try when people feel like they have no other good options. At $350, it's expensive and I'm not sure it's worth the money, but it is safe.
In your quest for perfectly maintained brows, you probably keep regular maintenance appointments on your calendar. Instead, you might want to embrace a more natural, hands-off approach. "The trauma inflicted on hair follicles during waxing, tweezing, and threading can lead to permanent follicular damage," explains Dr. Umar. "Women who grew up in the height of the '90s overplucked, pencil-thin brow trend have begun to notice the difficulty in growing thicker eyebrows after years of this habit."
Yeah right! The way Policing works in this country now if you stopped someone giving a cop a good hiding the same cop would then nick you for assaulting his attacker. NO CHANCE! The police got themselves into this by not doing their jobs properly and PROTECTING innocent people. Now? What trust and support there ever was for them is almost gone.....by their own hand.

Since our founding more than 40 years ago, Hair Club's unique story has been regularly featured in the media. And because we're the trusted provider of all-proven hair loss solutions in North America, we continue to receive lots of coverage today. With your help, we're still writing the story of Hair Club every day, so we welcome you to follow us and stay up to date with the latest Hair Club news, press releases and more.
Giorgos Tsetis: There are really two industries at work here that have to be separated. First, there's the drugs, the pharma, which is the FDA world. Then, you have the naturals, the formulas, and the actual supplements industry. The supplement industry is really not properly regulated in this country. More surprisingly, starting a supplement company is very easy. That's why you see all of these supplements popping up, and the FDA doesn't even have the capacity to monitor them all and make sure people are able to substantiate proper claims. As a supplement manufacturer, all you have to do is create your products in a FDA approved facility, and there thousands of them in the United States. That means anyone can put a formula together and get away with claims until they get challenged by consumers or competitors. When you step into these factories, you see it's messy. You're not talking about state-of-the-art factories where people are doing the work. It's really scary.
Hair loss is something that everyone experiences sooner or later, but some get it earlier than others. Losing hair prematurely can be traumatic. Because of that, there is an infinite number of products that claim to cure and reverse the problem. But what if you could find out the likelihood that you will experience hair loss so that you could prevent it before the symptoms even showed? Researchers in the United Kingdom have reportedly found a way to predict who is at risk.
Hormones don't just affect your mood, they are also common culprits of hair loss. A hormone imbalance caused by thyroid disease, pregnancy, menopause, or hormone medication (like birth control pills) can lead to eyebrow loss. Thankfully, once you identify the source of the hormone imbalance and address the problem, your hair will likely grow back naturally.
Big and bold brows can give great shape to your face. The last thing you want is to see your eyebrow hairs start falling out. Unfortunately, you can experience eyebrow loss just like you experience hair loss. It's important to understand what is causing your eyebrows to shed so that you can work on stopping the hair loss and promoting hair growth. Here are the most common causes of eyebrow loss.