Some cancer chemotherapy drugs cause temporary hair loss, which affects all body hair. Along with the loss of scalp hair, people undergoing chemotherapy also commonly lose their eyebrows and eyelashes. Chemotherapy drugs that frequently cause hair loss include paclitaxel, 5-fluorouracil, carboplatin, cisplatin, actinomycin-D, bleomycin, vincristine, cyclophosphamide, altretamine, etoposide, docetaxel and doxorubicin. Hair loss typically begins 2 to 3 weeks after the start of chemotherapy. Lost eyebrow hair regrows in the weeks to months following completion of treatment.
Optimal levels of estrogen help to grow full thick hair, while low estrogen levels lead to thin and stalled hair growth, which eventually leads to hair loss. Through the years, a women will go through various cycles of highs and lows in estrogen levels. Puberty is typically associated with high estrogen levels as a woman starts to cycle through menstruation. Pregnancy typically increases hormone production, but once the baby has been delivered the mother can experience a drop in estrogen levels, which can result in thinning and loss of hair. Typically, this corrects itself as the woman's body heals and hormonal regulation returns to normal.  The largest decline in estrogen levels is during menopause. Estrogen is secreted through the ovaries and adrenal glands. When a woman hits menopause, the ovaries' estrogen production is significantly diminished, which puts an excess burden on the adrenals to produce it. However, as the adrenals are typically overburdened due to stress, symptoms of menopauses like hair loss and hot flashes occur prematurely and excessively for some. Nourishing the body and balancing stress levels will support gentle and graceful transitions.  
It's important to keep your stress levels in check to prevent a hormonal imbalance. Reduced estrogen production can affect your brain chemistry and cause mood swings, anxiety, and depression. However, doing yoga and other breathing relaxation methods are especially effective in fighting menopausal symptoms. Exercising regularly can also help reduce stress.
When you choose dōTERRA®, you are choosing essential oils gently and carefully distilled from plants that have been patiently harvested at the perfect moment by experienced growers from around the world for ideal extract composition and efficacy. Each dōTERRA essential oil is also carefully and thoroughly tested using the strict CPTG Certified Pure Therapeutic Grade® quality protocol.
When you choose dōTERRA®, you are choosing essential oils gently and carefully distilled from plants that have been patiently harvested at the perfect moment by experienced growers from around the world for ideal extract composition and efficacy. Each dōTERRA essential oil is also carefully and thoroughly tested using the strict CPTG Certified Pure Therapeutic Grade® quality protocol.
If you are suffering from hair loss on your head AND your brows, you might be suffering from a protein deficiency of some sort. A supplement like Viviscal (available here), which is packed with marine protein, could help your condition. Viviscal has been shown to treat alopecia areata, as well as androgen-related hair loss (Journal of International Medical Research, 1992; FutureDerm). It will take some time, though: changes in protein in the diet have been shown to correspond with protein in the hair within 6-12 months (American Journal of Physical Anthropology, 1999; Futurederm).
Thyroid hormone receptors were detected in both dermal and epithelial compartments of the human pilosebaceous unit.[48] T4 and T3 decrease the apoptosis of hair follicles and T4 prolongs the duration of anagen in vitro.[49] Thyroidectomy delays initiation of anagen. Administration of thyroxine advances anagen, initiation of which is however delayed once toxic doses are given. Therefore, ratio of telogen to anagen hairs is increased in hypothyroidism as well as hyperthyroidism.[50] Thus, the hair follicles are affected in thyroid disorders, and madarosis is caused due to disturbances in hair cell kinetics. Hypothyroidism is associated with generalized hair loss probably due to coarse, dull, and brittle hair with reduced diameter.[51] The eyebrows and eyelashes may also be lost. Loss of lateral one-third of eyebrows known as Hertoghe sign[38] is a characteristic sign of hypothyroidism.[52] Some people also refer to it as Queen Anne's sign,[53] after Anne of Denmark whose portrait with shortened eyebrows has been interpreted by some as indicative of the presence of goiter, even though such a fact has not been proved by any known sources of information. Madarosis may even be the presenting sign in hyperthyroidism.[21] In hyperthyroidism, there is thinning with breaking off and shortening of hair.[54] Madarosis can also occur in hypopituitarism, hypoparathyroidism,[21] and hyperparathyroidism.[55]
Hair loss or baldness is a genetic trait, but unlike what you may have been told, it's not necessarily passed down from your maternal grandfather. Medical science has come to learn that hair loss genes are actually passed down from both sides of the family, and they affect hair loss in both men and women. Hair loss genes may also skip generations and are utterly random in terms of which siblings (male or female) they will affect. The cause of hair loss for one family member may differ from that of another.
Hair Club's Privacy Policy and Terms of Use set forth the conditions under which you may access and use our website. Your access and use of the website, lets Hair Club know that you consent to be bound by Hair Club's Privacy Policy, Terms of Use, and applicable federal, and state or provincial law, as applicable, in effect at the time of your use. The terms in the Privacy Policy and the Terms of Use are non-negotiable. If you do not agree to be bound by any of the terms contained in our Privacy Policy or in our Terms of Use, or you are not legally able to contract in your place of residence by reason of your age (you are younger than 18 years of age) or other, then you should not access or use the Hair Club website for any purpose.
Thank goodness! I am a teacher which requires me to get up about 5:30 during the school year. This summer, I will turn 62 and although I've always had problems waking up early in the morning – he it is so severe that I am sleeping 12 to 14 hours a day! This is terrifying as school starts in less than two weeks. I am postmenopausal for close to 20 years now and recently found out that my estrogen level is elevated. Your article is a godsend; I will now be able to have an intelligent discussion with my gynecologist and hopefully become a morning person for the first time in my adult life!
Scalp hair loss may be a common complaint among men and women, but in my practice, loss of eyebrow hair is a major concern among my female patients. Because eyebrows frame the face, hair loss in this area can dramatically change one's appearance, and since eyebrow hair loss is not easily concealed, it can be, for some women, an even more devastating loss than scalp hair loss.
Several skin conditions, including psoriasis, eczema, and seborrheic dermatitis, don't directly lead to hair loss, but cause inflammation (a symptom of these conditions) near the brow that may be to blame. The urge to scratch and rub the inflamed area can indirectly cause eyebrow hairs to fall out. Loss that occurs in this manner is usually patchy, but as it is generally non-scarring (the hair follicle is intact), eyebrows can and often do grow back.
It is an impulse-controlled disorder characterized by compulsive plucking or breakage of hair.[91] The most frequent site of hair pulling is the scalp, but the eyebrows, eyelashes, and pubic hair may also be involved. Trichotillomania manifests in eyelashes and eyebrows as irregular patches of alopecia containing hairs of varying lengths. Inflammation, scarring, and atrophy are conspicuous by their absence. Patients often attempt to conceal their alopecia by cosmetological camouflage. In case of a diagnostic dilemma, histological features such as increased numbers of catagen hairs, pigment casts, and traumatized hair bulbs provide a clue.
Copyright © 2018 Leaf Group Ltd. Use of this web site constitutes acceptance of the LIVESTRONG.COM Terms of Use, Privacy Policy and Copyright Policy. The material appearing on LIVESTRONG.COM is for educational use only. It should not be used as a substitute for professional medical advice, diagnosis or treatment. LIVESTRONG is a registered trademark of the LIVESTRONG Foundation. The LIVESTRONG Foundation and LIVESTRONG.COM do not endorse any of the products or services that are advertised on the web site. Moreover, we do not select every advertiser or advertisement that appears on the web site-many of the advertisements are served by third party advertising companies.
Male pattern baldness (MPB) has a distinctive shape. The front hairline recedes, especially at the sides, forming an M shape. This is frontal baldness. The crown of the head, also known as the vertex, becomes bald as well. Eventually the two areas join into a "U" shape. MPB can even extend to chest hair, which can thin as you age. Oddly enough, hair in different locations on the body can react differently to hormonal changes. For instance, facial hair growth can improve while other areas become bald.
The process takes about two hours to complete, but you'll need to go in for a touch up about once a year after the initial appointment (and possibly a second follow-up). Microblading costs between $500 and $1,000, and the results should last for one to three years. Your natural brow hair will continue to grow, but you likely won't need to get waxed as often. "Most people find their regular maintenance decreased because they have the shape they want after microblading," Studabaker says.
There is some evidence of a link between baldness and prostate cancer and other diseases. Harvard Medical School reports that men with vertex baldness have 1.5 times more of a risk of developing prostate cancer than men without bald spots. The risk of coronary artery disease is also more than 23 percent higher in men with vertex bald spots. Investigations are ongoing as to whether there is a link between DHT levels and metabolic syndrome, diabetes, and other health conditions.
Every child deserves the opportunity to just be a kid—to fit in and feel normal. Kids experiencing hair loss don't get that chance. That's why we offer the Hair Club For Kids® program. Hair Club For Kids provides non-surgical hair replacement services, completely free of charge, to children ages 6-17 who are suffering from hair loss. These services are available at all Hair Club locations throughout North America to help reach as many kids as possible. Call 800-269-7384 for details.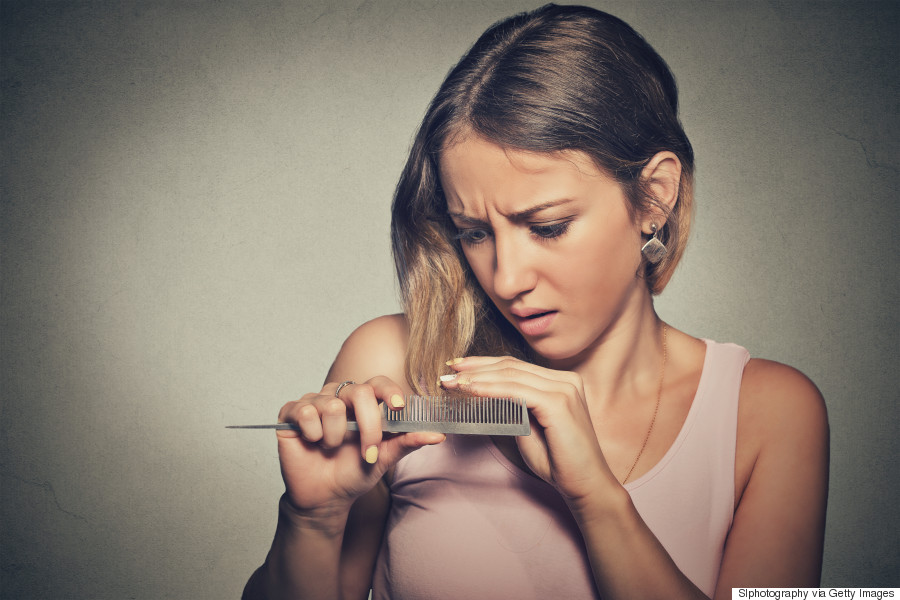 If you fall into this category, try to go as long as possible in between waxing or threading appointments, or completely give up the habit. I've started using the Tinkle Eyebrow Razor ($6) to help cut down on my waxing appointments. And if you must wax, thread, or pluck, Dr. Umar recommends avoiding any hair growing directly over the brow bone. Instead, limit yourself to the hair above and below this zone in order to avoid sparse brow growth in the future.
The complex actions of genetics, DHT, shifting of hormone ratios and age-related volume loss can commonly occur in women in their 40's and 50's. However, just like in men, genetic hair loss can appear at all ages after puberty.  In fact, hair loss occurs with relatively high frequency even in women in their 20's and 30's. The majority of women with female pattern hair loss initially develop diffuse thinning over the front and top of the scalp, while maintaining the frontal hairline. This thinning may present with a widening through the central part line while others may present initially with either episodic or continuous hair shedding, prior to any noticeable decrease in hair volume. In addition, thinning may also be seen throughout the scalp, including the temple areas as well as the back and sides.
The study in question, which was first published in the journal PLOS Genetics earlier this year, analyzed the hair growth of 52,000 men between the ages of 40 and 69 in the UK. The numbers: 32% of the men said they did not experience any hair loss at all. 23% said they experienced a little bit. 27% had moderate hair loss, and the last 18% said they were suffering from severe hair loss.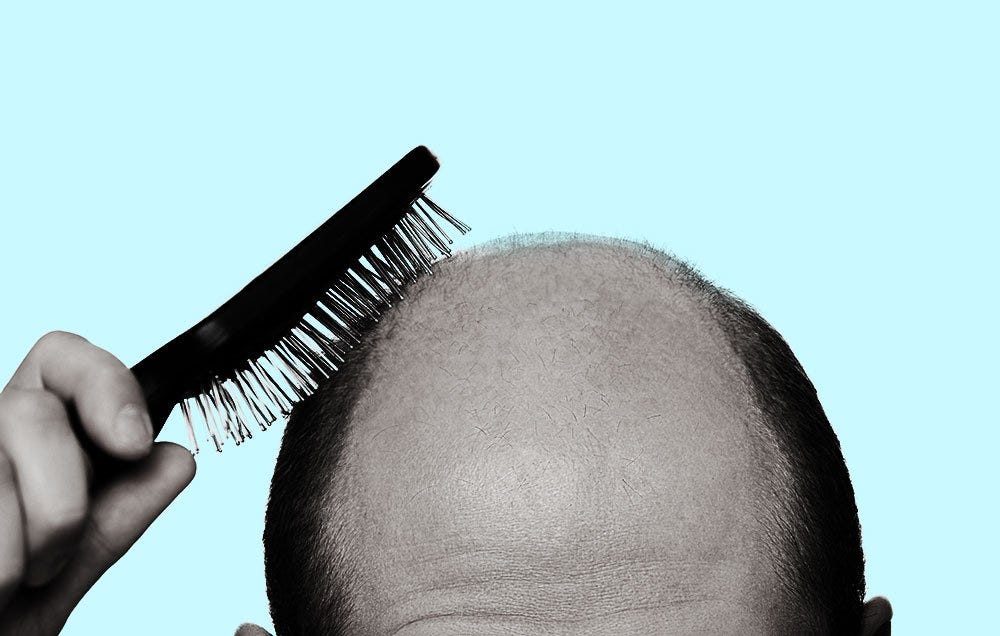 Hormonal changes are a common cause of female hair loss. Many women do not realize that hair loss can occur after pregnancy or following discontinuation of birth control pills. It is important to remember that the hair loss may be delayed by three months following the hormonal change and another three months will be required for new growth to be fully achieved.
Dutasteride is a 5-alpha-reductase inhibitor that binds both types I and II enzymes. Compared with finasteride, its inhibition of type II enzymes is three times more potent; its inhibition of type I enzymes is 100 times more potent (Clark et al., 2004). Dutasteride is not approved for the treatment of FPHL by the FDA, and ongoing studies on the efficacy of the inhibitor are promising but largely focus on male patients (Gupta and Charrette, 2014, Olsen et al., 2006). A study of women after 3 years of therapy showed that dutasteride may be more effective than finasteride in women under 50 years of age as measured by hair thickness (not hair density) at the center and vertex scalp (Boersma et al., 2014). One case report of a 46-year-old female with FPHL showed some response after 6 months of treatment with a dose of 0.5-mg dutasteride daily despite a minimal response to treatment with finasteride and minoxidil (Olszewska and Rudnicka, 2005). Data with regard to the treatment side effects in women is extremely limited. Dutasteride is classified as pregnancy category X because of teratogenicity and should have the same theoretical risk of breast cancer as mentioned in relation to finasteride (Kelly et al., 2016).
Protein: When the body does not get enough protein, it rations the protein it does get. One way the body can ration protein is to shut down hair growth. About 2 to 3 months after a person does not eat enough protein, you can see the hair loss. Eating more protein will stop the hair loss. Meats, eggs, and fish are good sources of protein. Vegetarians can get more protein by adding nuts, seeds, and beans to their diet.
Possibly a little too late to run up the Brexit flag but there ya go.Tory MPs have sleepwalked into the collapse of the Conservative Party through sheer arrogance and no little corruption.They need not bank on the threat of Corbyn to keep them in their jobs because I and thousands of others will see no point whatsoever in voting at at all... and if Nigel Farage puts something sensible together he will steal millions of votes from the Tories almost wiping them out.As a lifelong Tory it pains me to say good riddance.
Hair loss in women is not easy to diagnose because it is very often multifactorial in etiology and thus requires well-designed specific steps so that the patient is evaluated properly. The best way to do this is to evaluate the patient in person (rather than sending photos via email or Skype) because the patient gets a chance to meet her doctor to permit the development of a trusting relationship- critical because very often the treatment of hair loss is an involved process that requires a strong doctor-patient relationship.
A little farther up the follicle is the mysterious feature called the bulge. That's where follicle stem cells live. When they get the right set of chemical signals, these self-renewing cells divide. They don't divide like normal cells, in which both halves become new cells that keep splitting and developing. Only one half of the follicle stem cell does that. The other half becomes a new stem cell, and stays put for future regeneration.
If you've overplucked your brows too many times, you may have caused trauma to the follicles in the meantime, signalling not only those hairs you plucked to stop growing back, but also the hairs in surrounding areas. The good news: If the hair follicles aren't dead, they can possibly be shaken from their resting state with a good brow enhancer. (like WINK  yes of course, we have to say it). There's no sure bets, but it's worth a try–plus Wink has a money-back guarantee!
Madarosis is a terminology that refers to loss of eyebrows or eyelashes. This clinical sign occurs in various diseases ranging from local dermatological disorders to complex systemic diseases. Madarosis can be scarring or non-scarring depending upon the etiology. Appropriate diagnosis is essential for management. Follicular unit transplantation has been found to be a useful method of treating scarring madarosis and the procedure relevant to eyebrow and eyelash reconstruction has been discussed. A useful clinical approach to madarosis has also been included for bedside diagnosis. The literature search was conducted with Pubmed, Medline, and Google scholar using the keywords madarosis, eyebrow loss, and eyelash loss for articles from 1960 to September 2011. Relevant material was also searched in textbooks and used wherever appropriate.